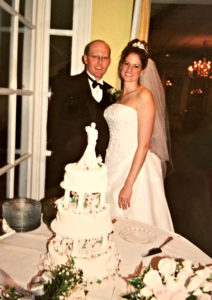 Back in 2003 I was to marry my college sweetheart Chris in April of that year.  Chris was called up for deployment to Afghanistan in January so we decided to tie the knot before he left.
We had 8 days to finish planning the wedding and the cake was one of those details that needed to be completed.  My sister Lista lovingly volunteered to make the cake for our big day.  Lista bought a book on cakes and made us a three layer tiered cake and even made sure that it was adorned in pink dogwood flowers to match the wedding color theme.  It was beautiful and delicious and complete with fillings!  The most amazing part of Lista volunteering to complete our cake is that she was battling breast cancer.  Lista was in the full swing of her chemo treatments but she never slowed down or complained.  She just wanted to make our day very special.
As time passed Lista perfected her craft and made an array of beautiful cakes for all occasions.  My favorite Lista creation was the cake she made of a whale for my baby shower.  It matched the invitation and from her hard work I was inspired to learn her craft.  Lista shared all her knowledge and love for cakes with me and I never knew how much I would treasure not only the lessons but the time I spent making cakes with her.
After a 5 year battle, Lista passed on January 17, 2008 from breast cancer.  I wanted to make sure that her love for cakes continued on so others could enjoy the creations she taught me how to craft.  This is how Cake to Crumbs Bakery was born…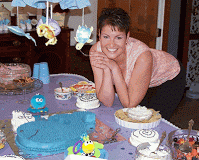 UPDATE: 
Over the years people have asked for an update to the Cakes To Crumbs story.  I didn't realize that I had left out some important details from the story.  My husband returned in 2004 from his deployment, healthy and whole.  Upon his return we celebrated with a Yellow Ribbon Reception in his honor.  This served in part to celebrate our marriage since it took place so quickly before he left.  He and I have continued on to create a beautiful family.  We have three amazing kiddos who keep our lives filled with much joy.  Each cake that is created still reminds me of how lucky I was to have such an amazingly strong and giving sister.